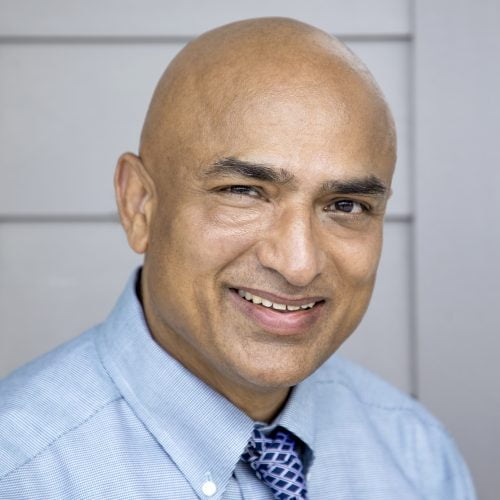 Dr. Gudipally hails from Hyderabad, India. He received his bachelor in Veterinary Science and Animal Husbandry from the College of Veterinary Medicine, Hyderabad, India in 1991. He then received his Masters in Medical Microbiology from Long Island University, Brooklyn, NY in 1996. He successfully completed his clinical rotation from Iowa State University Veterinary Teaching Hospital in 1997. He went on to receive his ECFVG (Educational Commission for Foreign Veterinary Graduates) Certificate from AVMD in 1997. He then practiced as a small animal veterinarian in a multi-doctor hospital in Chicago from 1998-2001. He also worked as a relief vet from 2001-2004 in Chicago, Southern California, Austin, and San Antonio. Dr. Gudipally, along with his wife Indira Gudipally, opened Pflugerville Animal Hospital in 2003. He then opened FM 685 Animal Hospital in Hutto in 2009. In addition to being licensed in the state of Texas, Dr. Gudipally is also USDA accredited. His favorite past time is spending time with his wife, two sons, and family pet Maya
Dr. Kelly Breazeale is a native Austinite. She earned her bachelor's degree from Texas A&M University ('95) and her master's degree from Texas Tech University ('03), both in animal science. Dr. Breazeale completed her veterinary degree in Scotland at the University of Glasgow, School of Veterinary Medicine, in 2011, where she was also admitted to the Royal College of Veterinary Surgeons.
Dr. Breazeale has had a lifetime of understanding and respect for animals, having been reared on a ranch caring for horses, cattle, chickens, dogs, cats, and an occasional pig. From spending endless Texas summers on the back of a horse to bottle-feeding various species of baby animals, Dr. Breazeale has always had a passionate interest in the human/animal bond and animal welfare. Even as a little girl, Dr Breazeale understood that pets are family too because some of her best friends were animals.
Dr. Breazeale is especially interested in preventative medicine, general practice and pain management.
She joined Five Star Veterinary Center as an associate veterinarian in 2019, eager to provide quality, compassionate veterinary medical care and make a positive contribution to the health of the animals of Central Texas.
In her spare time, Dr. Breazeale can be found enjoying time with her fiancé and family traveling the world, fishing, boating, SCUBA diving and teaching her Australian Cattle Dog, Beaux, new words and tricks.
She looks forward to welcoming you to the Five Star family and building lasting relationships with you and your fur babies.
Casey is a native Texan, born and raised near the Gulf Coast. She moved to Austin with her husband and their cat, Roo in 2014. After moving, they quickly adopted another cat, Reggie, and their Terrier mix, Dezi later in 2016. Casey has been an animal lover all her life... Growing up, her family always had at least one cat and one dog in their family, which played a major role in nurturing her passion for both cats and dogs!
She graduated from Texas A&M - Corpus Christi with a Bachelor's Degree in Biology (2009). In 2016, she began her career as a vet tech at a low cost spay/neuter and preventative care clinic in Austin. In July of 2019, she joined the Five Star team, bringing almost 3 years of vet tech experience, as well as several years of management experience to the table. She can't wait to meet you and your furry family members!
In her free time, Casey loves spending time outdoors... swimming, hiking, camping and all types of travel. She also loves live music and spending time with her family, friends, and pets.
Caylee is a 2020 graduate from Texas Connections online school. Her family has lived around Austin her whole life and a few years ago, she and her Mom moved from Kyle, TX to Bee Caves to help out some family.
A couple years back Caylee worked at a family friends vet clinic and learned a lot of the basics and met so many new amazing people. This grew her passion for animals and being able to help them. She loves being able to see the progress in the animals overtime after treatment, the new learning experiences in every case, and also the challenges of every case.
She's always known that she wanted to work with animals and give them better chances in life. Her first job gave her that push to go ahead with this profession and working here at Five Star has taught her so much and she loves coming in everyday to greet and help the doctors treat the animals. She feels like she has always known what profession she wanted to be in but growing up with animals and the lessons she got to learn everyday here have really pushed her to stay in this direction.
Her mom is actually just finishing school to become an Agriculture teacher and her leaning experiences have taught her so much. She's grown up with animals and for 10 years of her life they had owned cattle on their property in Smiley, TX. They also have a pig, chickens, and have had rabbits that she used to show in 4-H. This has made her passion for Agriculture and the animal science world burn brighter. Caylee is working to getting into college and she wants to work her way to getting her Vet Tech Certification and working off of that to gain more knowledge in the animal world and find what path in it fits her.
Haley was born and raised in Victoria, Tx, and she graduated high school in 2015. Since then Haley has been working towards a degree in Wildlife Biology. She moved to Austin, Tx, in March 2020 and plans on attending Texas State University.
Haley has always loved working with animals and in the past she thrived working at an animal rescue. Haley realized her passion for animals there and found how rewarding it is to help animals in need. When Haley moved to Austin, she wanted to focus more on animal health and care, which is what led her to work at a veterinary practice. Her favorite thing about working with animals in the veterinary industry is that she loves seeing the improvement from the first time the pet comes in, compared to their most recent visit where they are feeling much better.
She feels that the right profession is when you actually care about the work that you are doing and enjoy coming to work everyday. For her, spending time with dogs and cats has always made her happy and now this environment ensures that she can also assist the Veterinarian in helping the patient feel better and improving their quality of life.
When Haley is not at work, she is still surrounded by animals. She and her boyfriend share a border collie mix, a beagle mix, and a cat, all of which are rescues. When she is not working, Haley enjoys painting, taking the dogs on adventures, and recently they have been exploring our their home, Austin, Tx. She would love to continue working towards a degree where she can further her knowledge in animal care.
Emily was born and raised in Austin, Tx and graduated from Anderson high school in 2017. Currently, Emily is a senior working toward her Bachelors of Science in Nursing at the University of Texas.
Emily has always loved animals and found her passion in working with them through her volunteer work with an animal shelter. There she started out walking dogs and then moved to their medical clinic. It was with the clinic that Emily realized she wanted to work at a veterinary practice, and that's when she joined our team in August of 2020. Emily continues to work with the animal shelter, fostering dogs that need medical care.
When Emily is not working, she is studying…or she should be. She enjoys spending time on the lake, playing disc golf, and cooking. Emily's favorite part of her job is spending time with the animals and learning about the variety of medical conditions we treat at our clinic.